Lancaster PB687 UM-Q2 626 Squadron
Lancaster PB687 UM-Q2 626 Squadron
Date: 31 December 1944
Mission: Osterfeld
Shot down by German Fighter
Crash: West of Verviers
F/O RO Beattie Captain RCAF Safe
F/O FJ Benoit 2nd Pilot Safe
F/O AL Warren Navigator RCAF Safe
F/O KA Mcwilliam Air Bomber RCAF Safe
Sgt Harrison H. F/Engineer Safe
F/Sgt TA Casey M.U. Gunner RCAF KIA Hotton War Cemetery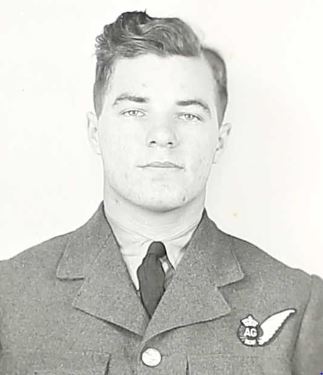 F/O WH Pogson Rear Gnr RCAF KIA Hotton War Cemetery
Sgt KH Austin W/Op. Air. KIA Hotton War Cemetery
« The above noted personnel were reported as missing in Lancaster aircraft PB687 after operation on Osterfeld on the 31st December 1944. The remaining members of this crew (five in number) have since returned safe to the United Kingdom where they stated that on the homeward journey they were engages by an enemy fighter and as result of the several damage sustained in the combat, the crew were compeled to abandon the aircraft, which finally crashed west of Verviers, Belgium, in occupied territory. The navigator states that he was the last but one to leave the aircraft. Only the Captain remained, and as the Captain has now returned safe to the United Kingdom it would appear from this statement that F/Sgt Case, F/O Pogson and Sgt Austin also succeeded in baling out.
…..It is also reported that the cause of death of F/O Pogson was burning….. »
…. It was seen that the bodies in Graves 102, 103 and 104 were picked up at the same spot (Jupille) on the same day (2-1-45) and under the same plane wreck.