Macquenoise – B-17G 42-31499 « Susan Ruth »
Macquenoise – B-17G 42-31499 « Susan Ruth »
B-17G 42-31499    « Susan Ruth »306th Bomb Group   369th Bomb Squadron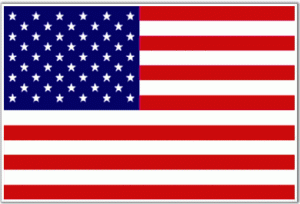 8 February 1944
Shot Down by Focke-Wulf 190 fighters. Lt. Hans Berger was credited with the Kill.
Crash site:  Macquenoise Belgium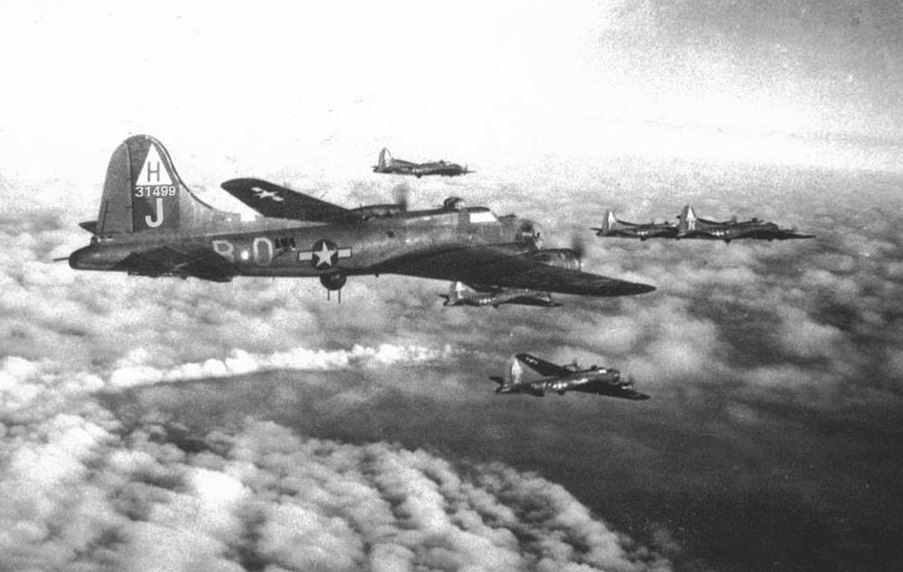 1st Lt  Snyder Howard J.  O-742461   Pilot  Evaded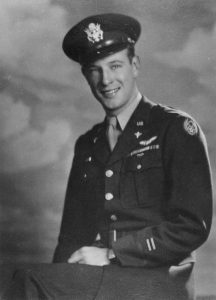 2nd Lt  Eike George W.  O-748164  Co-Pilot KIA  22 April 1944
2nd Lt  Benninger  Robert J.  O-685369 Navigator KIA  22 April 1944
2nd Lt  Daniels  Richard L.  O-679378  Bombardier   POW    Oflag 9A/H Spangenberg-Kassel Hessen-Nassau, Prussia 51-09
T/Sgt Holbert Roy K    34036012  Top Turret Gunner  POW  Stalag Luft 4 Gross-Tychow (formerly Heydekrug) Pomerania, Prussia (moved to Wobbelin Bei Ludwigslust) (To Usedom Bei Savenmunde) 54-16
T/sgt Kahler  Ross L. 33324107 Radio operator   KIA 8 Feb 1944
Sgt Colwart Louis J.  18151729  Ball Turret  Gunner  KIA 8 Feb 1944
Sgt Pindrock John  15329492  Right Waist Gunner  KIA  22 April 1944
T/Sgt Musial Joseph J.  13025549  Left Waist Gunner   POW  Stalag Luft 4 Gross-Tychow (formerly Heydekrug) Pomerania, Prussia (moved to Wobbelin Bei Ludwigslust) (To Usedom Bei Savenmunde) 54-16
S/Sgt Slenker William O.  16101156  Tail Gunner   Evaded
SHOT DOWN: The true story of pilot Howard Snyder and the crew of the B-17 Susan Ruth
By Steve Snyder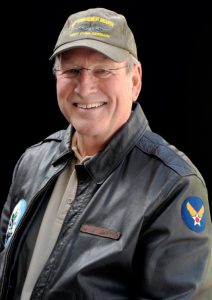 Growing up, I knew the basics about his father's war history. He was a B-17 pilot and stationed at Thurleigh, England with the 306th Bomb Group His plane was named the Susan Ruth after my oldest sister who was one year old at the time he went overseas. He flew combat bombing missions over occupied Europe and Germany and was shot down over Belgium. He was missing in action for 7 months but evaded capture. He then joined the French Resistance sabotaging German convoys and was finally liberated when Patton's 3rd Army came up through France after D-Day
However, it wasn't until I retired in 2009 that I had the time to go through all the material my parents had kept from the war years to learn more details. After doing so, I became absolutely fascinated with the story of my father and his crew, and it became my passion. I began by reading book after book about the air war in Europe, spent countless hours doing research on the internet downloading declassified military documents, and started attending reunions of various WW II organizations listening to veterans tell their stories. I am now president of the 306th Bomb Group Historical Association.
Finally in 2012, I decided to write a book. After my years of research, I came to the conclusion that the story of my father and his crew was so unique and so compelling that it just had to be told and people needed to read about it. SHOT DOWN was published in August 2014 and since then has received over 25 national book awards.
Although SHOT DOWN is centered on Howard Snyder and his crew, it also contains detailed information about the B-17 Flying Fortress, and the combat crews of the Eighth Air Force. The first half of the book leads up to the day the plane was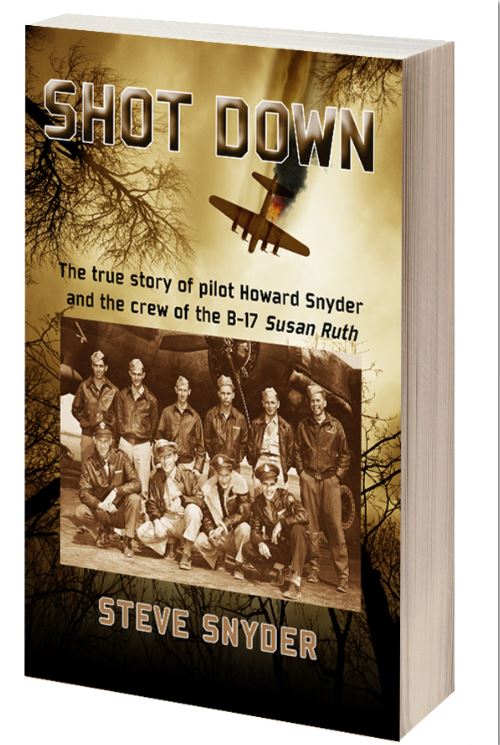 knocked out of the sky on February 8, 1944 by two Focke-Wulf 190s. It includes following my father through pilot training, the crew's journey to England, what life was like both on base and in England, and descriptions of perilous combat missions from take-off to landing.  The second half is about what happened to each member of the crew after that harrowing day (five of the crew made it back, and five did not) and about all the courageous Belgian people who risked their lives to help them.
Everything in the book is factual and based on first hand testimony by the people who were involved in the events that took place. This was acquired from personal letters written by crew member and their family members, oral and written accounts by crew members, declassified military documents, and research conducted by local Belgian historians, Dr. Paul Delahaye and Jacques Lalot, who interviewed Belgian citizens and members of the Underground. I even found and interviewed the German Luftwaffe pilot, Hans Berger, who shot down his father's B-17 bomber.
To complement the story, SHOT DOWN contains many excerpts from letters my father wrote to my mother while stationed in England, and the hardcover book includes more than 200 time period photographs. To add background and context to the story, many historical facts and anecdotes about and surrounding the war are entwined throughout the book so that a reader has a feel for and understanding of what was occurring on a broader scale.
I have visited Belgian four times and on my last trip in May 2016, I filmed all the locations mentioned in the book. I then went to Munich, Germany to film an interview with Hans Berger. I plan to make a documentary about it.
For more information, go to http://SteveSnyderAuthor.com.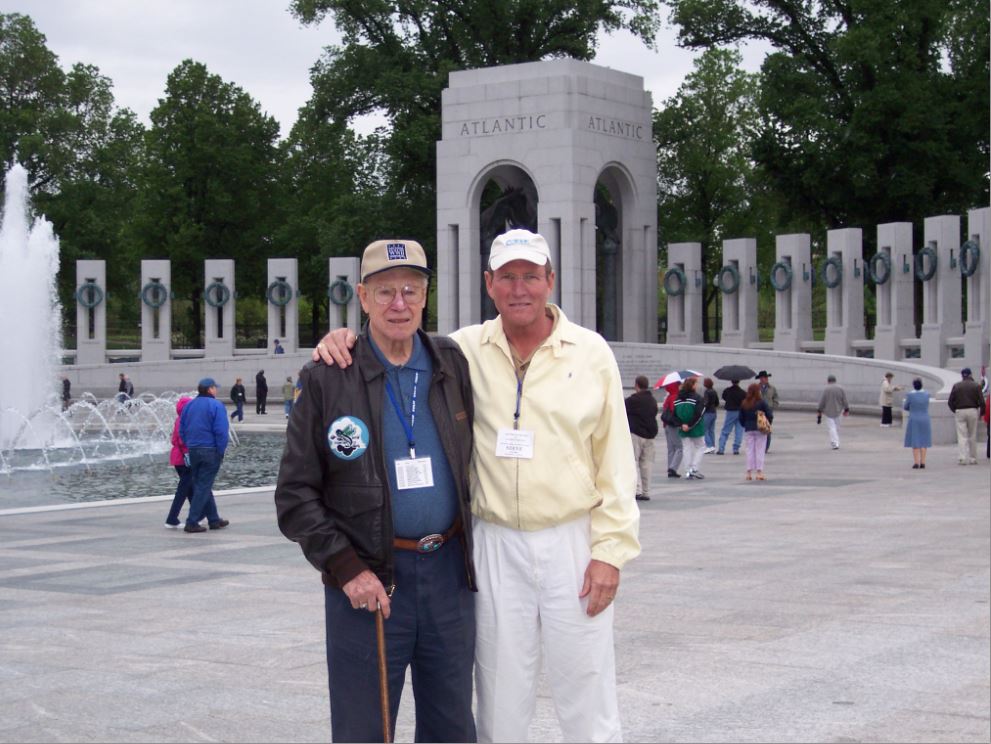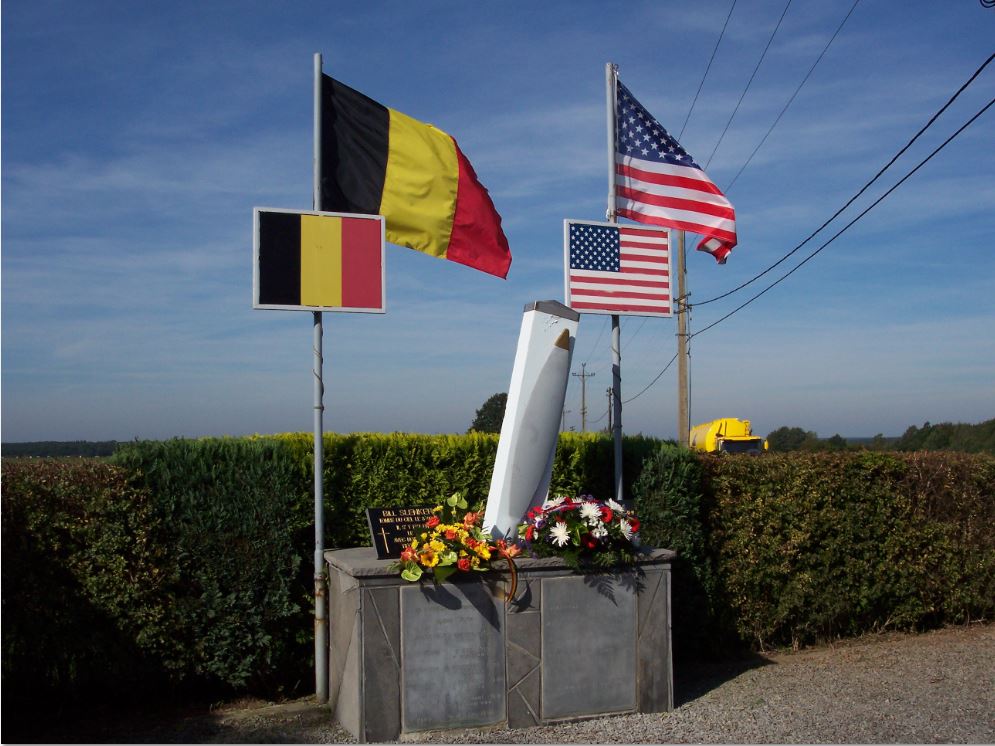 Courtesy of Steve Snyder