Merlin « Pop » PEARCE
Merlin « Pop » PEARCE
Bomb Aimer
Merlin « Pop » PEARCE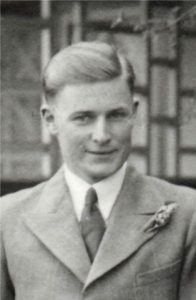 Sgt. RAF #1313589 (Later F/Ofr #161468)
Evaded – Bourgogne/Burgundy (Arrived back in UK 28 Oct. 1943)
Evasion – Bourgogne                   ( Rentré au Royaume uni le 28 octobre 1943)
Born: 4 November 1918 Wales        Died:  13 Sept. 44
Né le 4 novembre 1918 à Wales      Décédé le 13 septembre 1944
Son of Taliesin and Emily Francis Pearce; husband of Nita Mary Pearce of Llantwitfarde, Wales.
Fils de Taliesin et Emily Francis Pearce; mari de Nita Mary Pearce Llantwitfarde, Wales.
Buried: Reichswald Forest War Cemetery, Germany.
Enterré: Reichswald Forest War Cemetery, Germany.
Injuring a foot after baling out of JD368 and landing near Harmignies, Belgium, Pearce was assisted by a lady at a nearby farmhouse who had a local Gendarme come to the house bringing a pair of shoes. Given directions by the Gendarme, he reached Maubeuge, France, where he purchased a ticket for Paris, arriving there on 30 August.
Blessé au pied après avoir sauté en parachute du JD368 et avoir atterri près de Harmignies en Belgique, Pearce est aidé par une femme d'une ferme voisine qui a fait venir un policier qui a apporté une paire de chaussures. Grâce aux directives données par le gendarme, il atteignit Maubeuge où il prit un ticket pour Paris. Il y arriva le 30 août.
Having met a man on the train who agreed to help him, Pearce followed him off the train at the Gare de Nord, then out of the station where they proceeded to the man's residence. The next day contact was made with an « organization » and Pearce was moved to 5 different safe houses in Paris over a period of about 1 month.
Après avoir rencontré un homme dans le train qui a accepté de l'aider, Pearce l'a suivi hors du train à la gare du Nord, puis sortirent de la gare, où ils se sont rendus à la résidence de l'homme. Le lendemain un contact a été établi avec une «organisation» et Pearce a été déplacé dans 5 maisons d'hébergement différentes à Paris sur une période d'environ 1 mois.
Finally leaving Paris about September 25th from the Gare d'Austerlitz, with a guide and group of 8 evaders not identified, they arrived at Toulouse where they changed trains for Pamiers. From there they went by bus to Montferrier near Laverlanet village, then to a barn further into the mountains to meet their guides who did not appear.  It was at the barn that he met his crewmate « Jock » McCallum from JD368 and 7 other evaders.
Finalement il quitta Paris vers le 25 par à la gare d'Austerlitz avec un guide et un groupe de huit évadés, non identifiés. Ils arrivèrent à Toulouse où ils changèrent de train pour Pamiers. De là ils prirent le bus pour Montferrier près du village de Laverlanet, ensuite vers une autre grange dans les montagnes pour rencontrer leurs guides qui ne se montrèrent pas. C'était dans cette grange qu'il rencontra son équipier 'Jock » McCallum du JD368 et 7 autres évadés.
The group of 15 finally began crossing the Pyrenees, eventually reaching Andorra, Barcelona and Madrid, before finally arriving at Gibraltar on 25Oct.'43, with Pearce leaving by air on 27Oct.'43 for England.
Finalement le groupe de 15 commença à traverser les Pyrénées, pour atteindre Andorre, Barcelone et Madrid avant d'arriver à Gibraltar le 25 octobre 43, Pearce part par les voies aériennes le 27 octobre 43 pour l'Angleterre.
After JD368
Après le JD368
Following his successful evasion, Pearce was posted to 640 Squadron at RAF Leconfield, Yorkshire, once again flying on Halifax Mk. II's. On 13 September 1944, Pearce was killed on Ops to Monchengladbach, Germany.
Après son évasion réussie, Pearce est posté au 640ème Escadron à Leconfield, Yorkshire, pour voler de nouveau sue un Halifax MK. II. Le 13 septembre 1944, Pearce a été tué lors d'une mission sur Monchengladbach, Allemaagne.