Spitfire 441 Squadron
Spitfire 441 Squadron
Date: 28 October 1944
Mission : Escort to Lancaster bombing Cologne
J.26034 F/O Alexander James McDonald KIA RUNNYMEDE MEMORIAL Panel 247.
« 2 November, 1944 ………In the afternoon on October 28th, the squadron took off to provide escort for a number of bombers attacking an important target in Germany. Gilbert Brochu was one of the members comptising this escort. All our aircraft reached the target but on the return trip the weather was very bad and as the pilots had to fly through thick cloud, it was very difficult to remain in position. Gil. was seen to swerve slightly from the general direction of the remainder and to descend gradually. he did not dive any indication, tough, of being in difficulty but appeared to be looking for a level at which he could break cloud. no word has been heard of him since that time ……. RH Walker Squadron Leader, Officer Commanding, 441 Squadron
Circumstantial Report
At 14.55 hours on October 28, 1944, J.88814 P/O VAG Brochu took off with 13 other members of this Squadron to act as escort to Lancasters bombing Cologne.
The escort was carried out as planned. There was intense accurate heavy flak at the bombers from the target area but no fighters were encountered.
The weather was clear over the target but cloud and icing conditions were very bad en route. P/O Brochu was last seen accompanied by J.26034 F/O AJ McDonald, who is also missing, about to descend through cloud, south of Brussels, on the return Journey……. Signed F.A. Ruggle, F/O, for Officer Commanding, 441 RCAF Squadron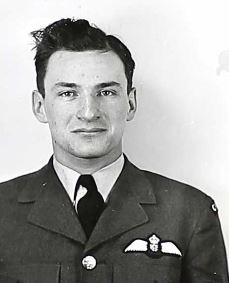 7 December 1945: Previously reported « Missing » 28-Oct-44 after air operations overseas (20 miles south of Namur Belgium, seen to down through cloud). Now « presumed dead » for official purposes. »